Energy-efficient LED lighting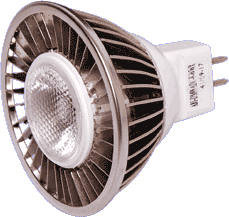 High-power MR16 LED Downlight
From around early 2009, high-powered LED lighting became popular and readily available. These lights consists of one to four high-power LED modules that can provide anywhere from 30 up to 80 lumens of light. Until then, most LED lamps were constructed from an array of smaller, inexpensive low-power, high-brightness LEDs. The output of these early LED lamps was dismal. The newer high-powered lamps approach, and in some cases, exceed their halogen counterparts in light output.
LED lighting is now approximately as efficient as flourescent lighting (from 40 to 60 lumens per watt). It excels when used to replace incandescent or halogen lighting.
Incandescent lights are extremely inefficient. Quite simply, they work by passing an electric current through a thin piece of tungsten wire, causing it to greatly heat up. A by-product of this massive heating is the emission of visible light. In fact, a typical incandescent lamp produces 98% heat energy and 2% light energy. They are quoted as having an efficiency of about 14 lumens per watt.
When to use LED lighting
LED lighting is roughly the same as fluorescent lighting in terms of efficiency. Therefore, it is generally uneconomical to replace mains powered fluoro lighting with LED lighting. The exception is when the power source is DC. This is because when using mains, AC power needs to be downconverted to extra low voltage DC (e.g. 12V DC) to run the LED lamps, by means of a transformer. The transformer is not 100% efficient, so some power loss occurs. But in a DC system (such as that provided by solar PV and batteries), no conversion is necessary, so the LED lamps can be powered directly, with little or no loss in power.

Therefore, you should only go the expense of installing LED lighting if you already have a DC renewable power system in place, or if you're replacing incandescent lights.
Where to use LED lighting
LED lighting can either supplement or completely replace your existing mains-powered lighting systems.

Replacing existing lighting: If your home already has extra low voltage downlighting, it is relatively simple to replace your existing MR16 halogen globes with drop-in LED replacements. If your lighting is not of the extra low voltage variety (i.e. you have 240v lamps), you will require a step-down transformer in order to run the LED lamps. In this case, a licenced electrician will be required to fit the transformer.
For homes that already have extra-low-voltage (12v) halogen downlighting, it is possible in most cases to simply replace the MR16 halogen globe with an LED MR16 lamp. Except for the more expensive or specialised ones, LED lamps need to be used with an iron-cored AC transformer or 12v DC. Electronic 'switchmode' downlight transformers are incompatible with many of the cheaper LED MR16 lamps and in some cases can cause the LED lamp to fail or be destroyed. This is due to the very high frequency 12V AC output of the switchmode transformer, which can be up to 10KHz. LED MR16 downlights work best on either 50Hz 12V AC or 12V DC. If you are handy with electronics, you can fit a bridge rectifier and filter capacitor between the switchmode transformer and LED lamp to provide 12V DC.

Supplementing existing lighting: 12v DC-powered LED lights can be installed alongside your existing mains-powered fluoro or incandescent lights - that is, you have two lights in your ceiling. A separate light switch needs to be installed for the 12v lights. This allows you to choose between the normal mains powered light or the LED lamps.
The LED lights are powered from batteries which are kept charged by your Solar PV system. Note that additional extra low voltage wiring needs to be installed. A 12V DC bus can be installed throughout the house to make it convenient for supplying power to your LED lamps in each room.
A dual system such as this is highly beneficial, because you have an independent set of lights that are immune from grid blackouts, and still have mains powered lighting for when your batteries are flat or not receiving enough charge due to many successive rainy days.
See also: Retrofitting LEDs in your home