Aero-Sharp Inverter HR-INV-X01-015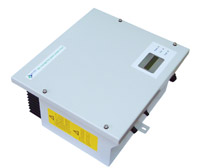 The Aero-Sharp brand of inverters were designed for residential use, accepting a string of rooftop mounted PV modules for conversion to 240V AC for feeding back into the grid.
These inverters were commonly sold by Origin Energy (and a few other solar installation companies) as part of a solar package until the end of 2012. They have since fallen out of favour, with most suppliers offering SMA, Xantrex and Sharp instead. There were reports of Aero-Sharp inverters failing at an abnormally high rate.
They are one of the heaviest inverters on the market, owing to the aluminium / stainless steel enclosure and large toroidal isolation transformer.
Technical details
It uses a Mitsubishi PM50B4LA060 50 amp, 600 volt IGBT H-Bridge module to drive the output transformer. The IGBT module is bolted underneath a large heatsink that endows the entire top of the inverter. The heatsink contributes significantly to the weight of the inverter, however the advantage of such a large heatsink is the benefit of a fan-less design, thus improving reliability. But as the heatsink sits horizontally, dust can gather and settle between the fins. Routine dusting is required to keep it clean.
The PV input voltage range is from 150 to 400 volts. The inverter produces little to no output below 155 volts, and remains in stand-by mode at 150v or less. The unit will only power up (into stand-by mode) when the PV voltage rises above 85 volts.
The maximum input current is 10A. With 8 x 190w 24v panels (1520w), the current would be 5A with an open circuit voltage of about 336v. However, a lower open circuit voltage could be used if the panels provide a higher current, such as 12 x 120w 12v panels (1440w), giving an amperage of 7A and an open circuit voltage of 210 volts. For best efficiency, a higher voltage and lower amperage string is preferable, which reduces losses in cabling between the array and inverter.
All three ports/connection points are galvanically isolated from each other. The communications port uses an isolated power supply and opto-isolators. The main isolation transformer eliminates the need for PV modules to be earthed.
The isolation transformer makes up for about 50% of the weight of the inverter. It is a large, high capacity toroidal unit which is bolted to the back of the enclosure.
There is a microphone on the LCD board. This is used to detect when someone has tapped on the front cover/lid, and will activate the LCD backlight for about 20 seconds.
General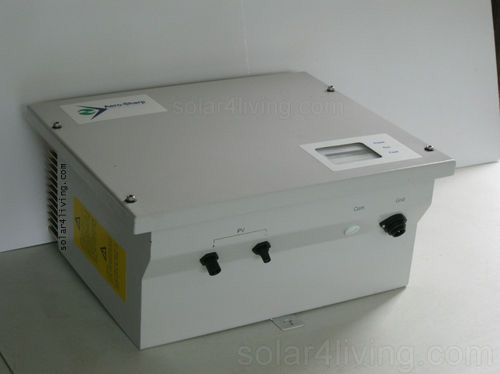 Aero-Sharp inverters are generally well designed. Extensive filtering on both the PV input and also AC grid output largely eliminates most radiofrequency interference. The PV and AC grid ports are protected against voltage spikes by TVS (transient voltage supressors).
Unfortunately, when the PV input is low (less than 50 watts), the isolation transformer presents itself as a light reactive load to the AC line with a very low power factor (similar to a large, unloaded transformer). The low power factor of approximately 0.02 effectively cancels out any power exported to the grid. It is only with a higher PV input wattage that the inverter exports any useful 'real' energy back to the grid (i.e. at 150W with a power factor of 0.7). Therefore, for there to be any benefit, Aero-Sharp inverters need to be operated in their optimum 'power window', usually between 50% and 90% of their rated capacity. At 500W and above, a power factor of 0.95 can be realised, and at 1000W, 0.98 is achievable.
Problems
See article: Aero-sharp Problems (Grid Volt Error).
Remote Monitoring
Many installed Aerosharp inverters are the cheaper versions, i.e. they do not include the kit or connections required for monitoring on a personal computer. On these units, the Com port hole is plugged with a plastic bung. However, the serial communications circuitry is still present on the LCD board, and it is possible to retrofit such an inverter with aftermarket connectors to permit connection to a computer.
Aerosharp made a piece of software called PVMonitor2008, which talks to the inverter via an RS485 serial link. This was never released as a downloadable package on Aero-sharp's website. It is supplied on a CD as part of a PC connection kit. The kit is extremely difficult to locate in Australia, and very few solar companies stock the kit.
As an alternative, the inverter can be monitored using third-party off-the-shelf components and a simple script. See our page on Web-based Aero-Shap monitor.
Photo Gallery
| | | |
| --- | --- | --- |
| Internals overview | IGBT Board - Mitsubishi PM50B4LA060 | IGBT Board view from top. Note the toroidal transformer is visible |
| PV DC filters (shield cover removed) | The toroidal output transformer | Back of the LCD board. Note the GMT+10 label on the top left of the board. |
| The RS485 connector on the LCD board | The front of the LCD board. Note the microphone and CR2032 lithium cell. | HR-INV-X01-015 Nameplate |